Leading lighting manufacturer Ansell Lighting has been honoured with the first ever King's Award for Enterprise for Innovation.
Ansell is one of 148 organisations nationally to receive with a prestigious King's Award for Enterprise and has been recognised for its excellence in the Innovation category for its patented Panel Pod product.
The Panel Pod was created in response to an identified industry need, and converts an LED panel light into an emergency light in less than sixty seconds, without needing a conversion kit or additional ceiling fixture to install.  Emergency lighting is required by British law and workplace health and safety guidance, so if the lights go out in the case of fire or other incident it stays on for up to three hours. *
Since its launch in 2014 almost 400,000 Panel Pods have been sold worldwide.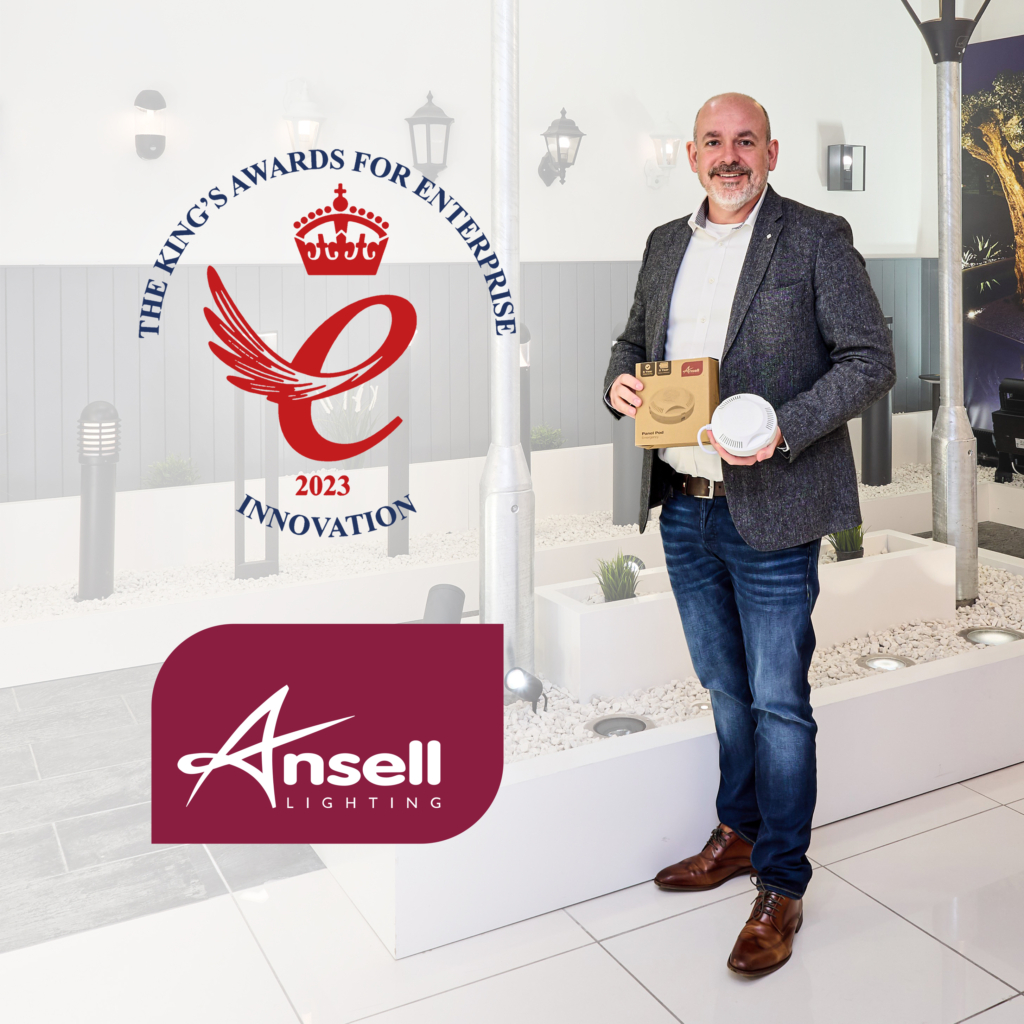 The King's Awards for Enterprise was previously known as The Queen's Awards for Enterprise, and the new name reflects His Majesty The King's desire to continue the legacy of HM Queen Elizabeth II's, by recognising outstanding UK businesses. The Award programme, now in its 57th year, is the most prestigious business award in the country, with successful businesses able to use the esteemed King's Awards Emblem for the next five years.
Winners of the award are invited by The King to a reception at Buckingham Palace.
Mark Abbott, Managing Director of Ansell Lighting, said: "Achieving this award, especially in the first year of the King's Awards, is a great honour and testament to the hard work and dedication of our innovation team and everyone involved in the business.
"The design and creation of the Panel Pod was genuinely transformative for our business and continues to contribute significantly to our ongoing success.  Its launch paved the way for new relationships with wholesalers and contractors who we had never worked with previously. It is a fantastic example of continuous innovation as, over the last eight years, we have continued to re-evaluated its design, making it lighter and more discreet, upgrading the battery to Lithium and now we are working on a reporting capability for it that will be extremely valuable to the building managers using emergency lighting."
Established in Belfast in 1992 before expanding into mainland UK in 2001, Ansell Lighting is a recognised market leader in the design and manufacture of high-quality luminaires for the commercial, domestic, industrial and architectural markets. Headquartered in Warrington, where it has a state-of-the-art showroom, Ansell operates across Europe, with showrooms in Belfast, Dublin and  Madrid.