Firstly, the term 'Ligature', relates to a device, which can be used to inflict harm by restricting normal breathing or blood flow, and therefore this means that the opposing term of 'Anti-Ligature' relates to a device which is intended to reduce or remove the risk of the attachment of a ligature.
There are a number of types, where different products can be classed by achieving different features pertaining to products that can be classed as being Anti-Ligature. Load Release Anti-Ligature is where the item will release from its mounting fixings to prevent a ligature, when an abnormal load is applied to it. Fixed Anti-Ligature is where an item when installed in place is designed to minimise the potential for a ligature to be achieved when looping or wrapping a cord or similar around the object, such as a light fitting. Weaponry Deterrent is where the item is designed to reduce the risk of such item being used as a weapon.
The design and installation of anti-ligature lighting fittings are generally used within environments where individuals are considered to be deemed as being 'at risk', as in the case of locations within facilities which have restricted access or limited movement, such as those within secure healthcare buildings or within prison establishments.

The term for lighting equipment is that of being a 'Fixed hardware device', which relates to that of a light fitting which performs a specific function when fixed or attached to a surface, with a fixing arrangement that is inaccessible or requires a special tool to release it from its mounting surface.
The types of lighting equipment classed as being 'Anti-Ligature' are those generally having no moving or protruding components and having rounded or bevelled corners restricting points where a ligature item can be attached. This means that as there are no ligature points of possible attachment which could enable the fitting to be used as a point to self-harm or to cause personal injury.
Generally, an anti-ligature luminaire is so designed with the body of the fitting being robust, normally being constructed to be strong and durable, which can be securely affixed to an appropriate surface for which the luminaire fixings are either inaccessible or require the use of special tools to release them. The luminaire should be designed and constructed to provide a mechanical impact resistance rating of IK10 or greater, which means that the fitting is able to withstand a direct impact of 20 joules. The diffuser will encompass a high impact resistant diffuser and is designed to minimise the aperture gap between the diffuser and the body of the fitting, whilst also requiring a special tool to release it from the fitting body. It shall be so secured to ensure no parts can be removed to be weaponised, allowing a person to use any part of the fitting, to cause personal injury or injury to others.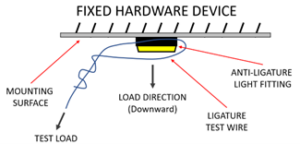 Lighting luminaires installed within secure establishments, such as a secure mental health environment within the healthcare sector, are frequently subjected to targeted physical abuse with the intention of causing self-personal injury, or for inflicting damage to the equipment, and therefore shall have the ability to withstand such physical attack, where if damaged, the fitting will not then constitute a risk of self-harm to the person causing the damage, or the harm of other persons located within the vicinity, whilst also ensuring that the fitting continues to operate normally, especially if it forms part of the emergency lighting required for safe egress from the building.